Spring Summer 2022 Mother of the Bride edit:
With countless gatherings cancelled or rescheduled as a result of the Covid-19 pandemic, more weddings than ever, have been booked for 2022. As a mother of the bride or groom trying to plan their special outfit, it feels very exciting to be able to dress up again after these stressful couple of years but finding the perfect style for you may seem like an impossible task. Once upon a time, mother's of the bride were expected to wear matronly outifts, in easter- egg pastels, but thankfully that's now in the past. Nowadays, mother's are free to explore more modern, fashionable options, which may excite or daunt, but rest assured, our experienced and patient stylists will guide you through a wealth of colours and styles until you find that one special outfit that makes you feel incredible for your son or daughter's special day. Your mother of the bride appointment at Helen Sykes Fashions will be a fun and wonderful experience, you will remember fondly for years to come.
Traditionally the mother of the bride's dress should complement the wedding party. We would advise that you wait until your daughter has chosen the bridesmaid dress colour to book your appointment to view outfits. See whether you can get a small swatch of the bridesmaid fabric to bring with you, so that we can help you find a shade that enhances the colour scheme. The only hue that we would always recommend not wearing would be the colour of the wedding dress. Although as a mum you deserve to look absolutely stunning, the bride should always be the star of the day.
If you are wondering when to book your mother of the bride or groom appointment we would always recommend purchasing your special outfit no later than 3-4 months before the big day. This allows time for alterations that may be needed and choosing accessories. It is typical for the mother of the bride to choose her dress first and then the mother of the groom (who would usually avoid choosing the same colour). The mother's dresses should complement each other, so it is wise to communicate with each other if possible.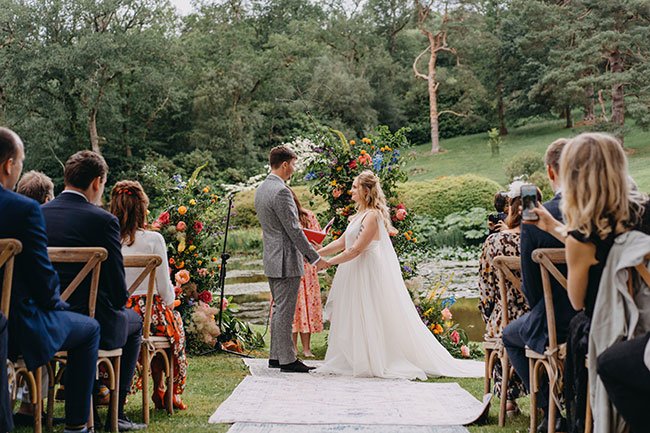 While the focus of the wedding day will be firmly on the bridal gown, it is no doubt that the day is just as special for the mothers of the bride and groom. The day a mother has always dreamed of and spent time imagining what she may choose to wear. Our styles are varied from neutral hues to bold vibrant colours, long fluid maxi dresses to chic and fitted dress and jackets. Whether you prefer a more classic look or something quirky and modern, whether the wedding is in a country house or tipis in a meadow, let the following styles inspire you as a small sample of the collections we have to offer.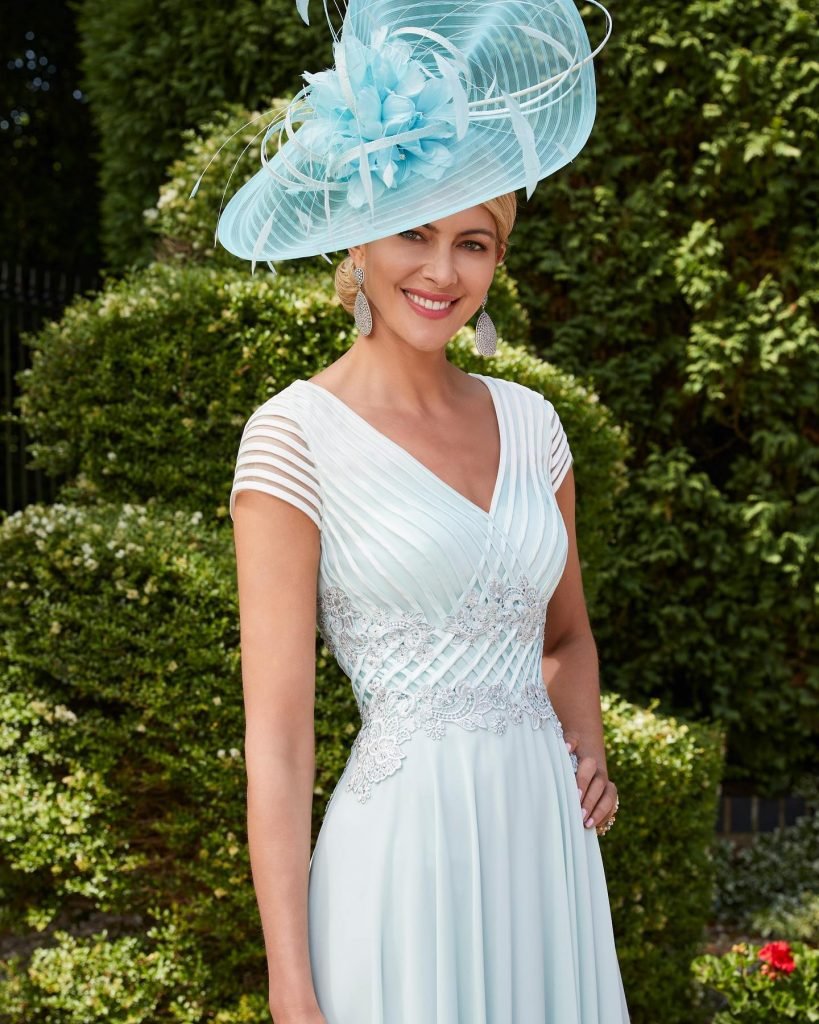 This beautiful mint dress is classic and elegant. It has exquisite lattice work to the bodice, and an ankle length soft floaty chiffon skirt. The shape is incredibly feminine and flattering for curvier figures, and the short sleeve covers the upper arm. With eucalyptus being a key colour for bridesmaids in 2022, the mint colour tones beautifully with this popular colour scheme. Priced at £546.95.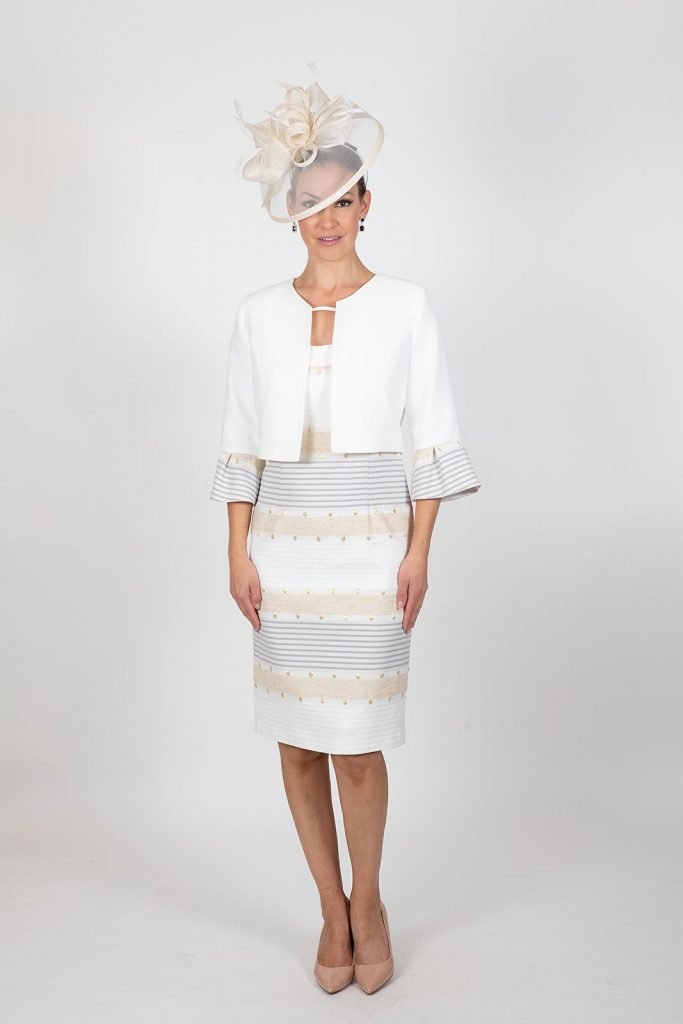 Classic doesn't have to mean old. This timeless cotton dress and jacket is perfect for a modern mother of the bride looking for a neutral colour tone and a smart jacket to finish the look. The neutral cream, gold and gunmetal grey colour combination works well with most bridal colour schemes and flatters most skins. Very reasonably priced at £339.95, and both pieces can be worn endlessly afterwards either complete or as separates for many other occasions.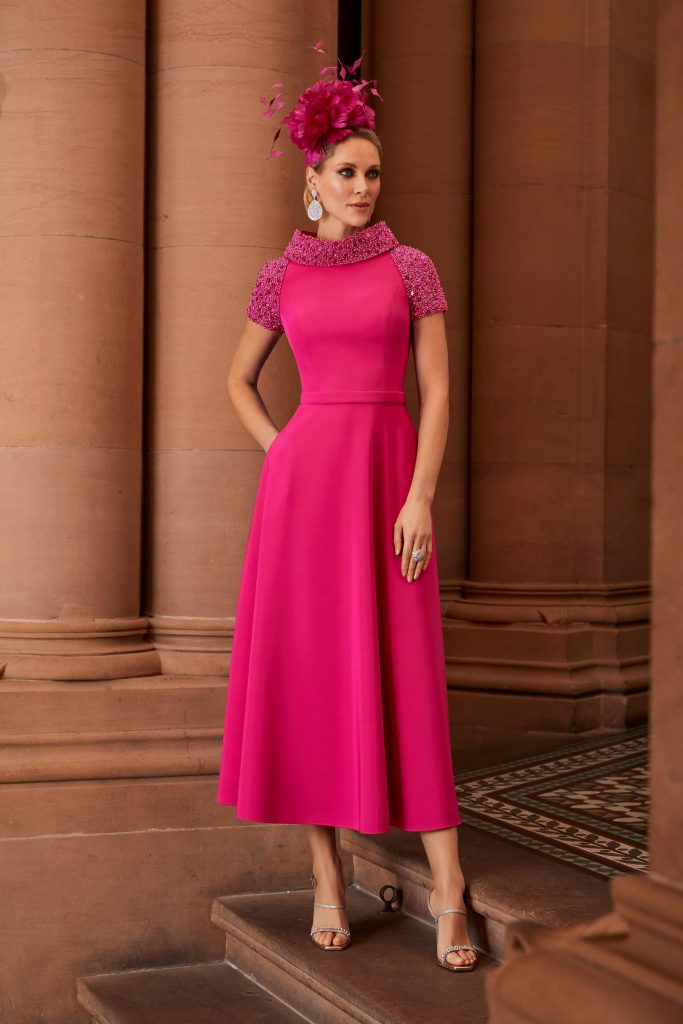 Perhaps you would prefer a vibrant bold colour for the special day, this bright cerise shade lights up most English skins and the fitted waist and full skirt flatters the body. The stunning, yet timeless style is reminiscent of the 1950s. It has exquisite beading on the collar and shoulders to add to the special look. Priced at £630.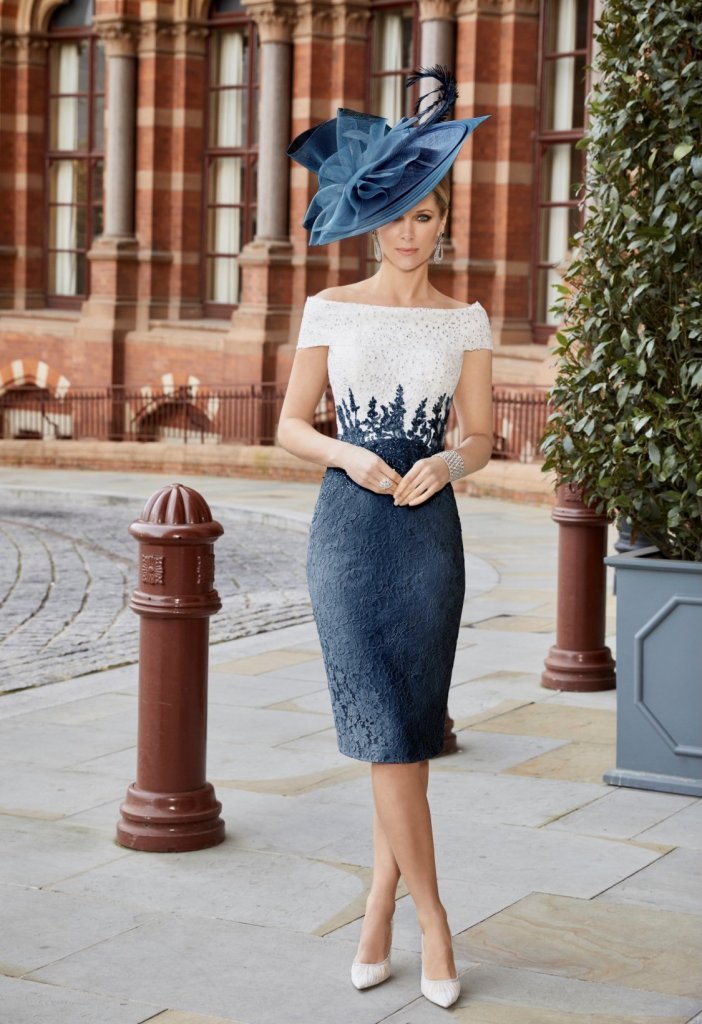 Navy and white is always an elegant combination. This stunning lace cocktail dress with diamante scattering to catch the light and a sexy off-the-shoulder neckline is perfect to dance the night away. Team with a lightweight ivory pashmina if you need to cover your shoulders for a religious ceremony. Priced at £490.95.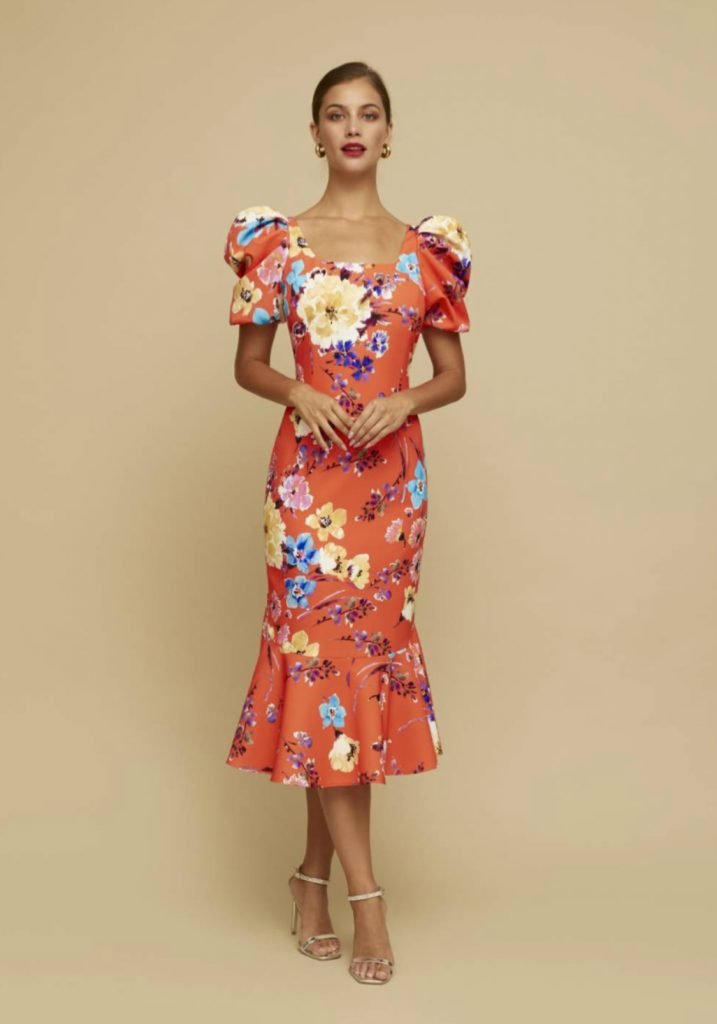 For a less traditional venue, finding the perfect dress may be more difficult. You want to look that little bit more special than the other guests, but don't want to be too formal. An elegant printed dress is both fun and sophisticated, and this version from one of our Spanish designers, with puffed sleeves and a cheeky skirt hem is absolutely stunning for a more informal wedding venue, or wedding abroad.